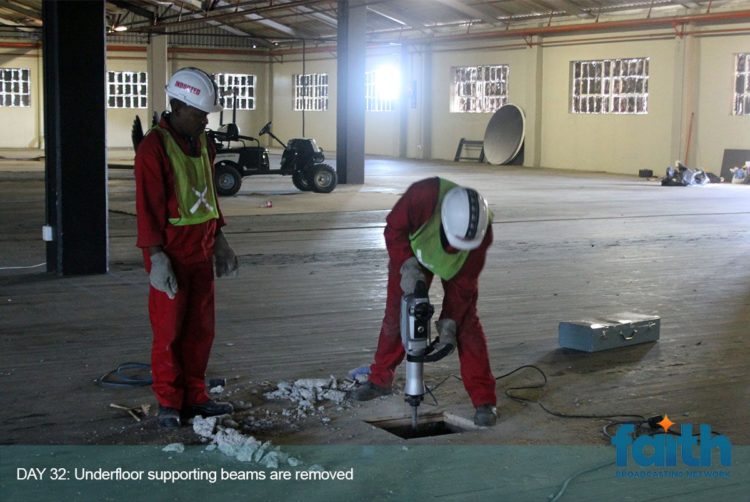 213 DAYS TO STRUCTURE COMPLETION
Avalon Steel Projects have made the fourth floor at River Park their second home, and every day sees their team busy with some aspect relating to the project.
The old Studio A has now been totally vacated and where once before people congregated to worship there are now vehicles, construction equipment and signs of demolishing parts of the old structure. Portions of the wooden floor have been removed and shuttering is being put in place in preparation for casting the new concrete floor. One of the supporting concrete columns was cut down in order to test some of the equipment… and all is working well!
Studio B is now fully operational and minor finishing touches are being attended to. The viewers of Faith Broadcasting Network have already enjoyed some broadcasts from the re-vamped studio, which will continue to be used as the main studio until the opening of the new Studio A on 1 October 2016.
Around 36% of the initial R30 million budget has been met, and made possible by the partners who have joined in the vision of seeing God's kingdom extended. The team of Faith Broadcasting Network is very privileged to have so many like-minded people at their side and is honoured to call them friends. There are daily calls and emails from people all over the world who are pledging support, both in prayer and finances, for the project. We know that God commands His blessing where there is unity, and so together and united we believe to see the entire renovation completed on time.
Even while the on-going construction is happening the team is hard at work in ensuring all programming goes out on time, new broadcast partners are being procured, and general planning goes on unabated.
Thank you for your continued support in prayer and finances – we value your partnership greatly! To give you some practical insight into the timeline of the project, and also to help you pray specifically for each stage in this phase of the development, here is an anticipated timeline (we will keep updating you with the latest news as the plans unfold!
COMPLETED PHASES
Vacating of Studio A (old) and removal of all broadcast equipment.
Renovation of Studio B as the interim main broadcast studio.
Removal of +/-8% of the old wooden floor and shuttering put in place.
PHASES TO BE COMPLETED (4 May – 15 December)
lifting of Oregon floorboards
casting of concrete floor
erection of support beams
erection of roof trusses
building of tiered seating structure
waterproofing of entire roof/wall areas
PHASE 2
carpeting
chairs to be installed on tiers
construction of stage and storage areas
Installation of sound, light and video equipment
building of main set for studio broadcasts
installation of sprinkler system
construction of bathroom facilities
installation of video wall for stage & roof display
finishing of 100-seater wedding chapel
finishing of VIP Lounge for visiting speakers and artists
building and painting of enclosing walls